In a 6000 dunum village called Aqqaba, where 1500 dunums are planted with almonds trees, lives a very active farmer named Nabil Abu Arra. Nabil used to be a laborer in a stone and marble factory where the income he gained wasn't enough to put food on the table. While showing us around the almonds trees, Nabil said: The first time the almonds idea was introduced by PARC I was convinced that this was a great opportunity for me and thousands of almonds farmers especially with the support of Al Reef Company that is able to market the almonds internationally. I have been cultivating almonds for 7 years now, when I started, I started with nothing. I was in debt and rented a land and for the first 3 years I lived with debts. In the fourth year the production started and in the fifth year a satisfying production enabled me to repay the debt.
Through fair trade, Nabil has been able to improve his economic conditions and now he has saved enough money to buy his own tractor for the plowing of the land. This will save him money and time as he has to wait for a long time for his turn to plow the land. "All my life now depends on almonds agriculture", it's the livelihood and vitality of our village where hundreds of families depend on almonds production" said Nabil . 60 families of 1500 family are fully and mainly dependent on almonds production in Aqqaba Village as their only source of income.
"What motivated me to cultivate almonds is the presence of Al Reef Company and their ability to market our almonds and pay us fair prices. "Now, we don't worry about our marketing opportunities or the risks imposed on farmers by the free market. "Al Reef has removed the uncertainty of what will happen after the harvest is ready", said Nabil.
"Before Al Reef and fair trade markets, we were followers of traders and decisions were imposed on us. Now we are empowered decision makers. Traders used to force their prices upon us, but today, no single trader may set a price before knowing the fair trade price. This has protected us from greedy traders and now they wait to know the fair trade prices and based on that, they set their prices. We wish if we could market all our harvest in fair trade markets as traders know that not all harvest is sold to fair trade and some of them wait until we finish the fair trade quantity and then they come and force their prices on us. For example, if we produce 50 tons of almonds, we sell 15 tons to fair trade markets; there are 35 almonds tons remaining that can get exposed to exploitation by traders" said Nabil.
Nabil has 3 daughters aged 22, 16, 11 years old, and through fair trade, he has been able to send his eldest daughter to continue her education in university. Two years ago, his youngest daughter suddenly developed an eye syndrome and after 3 surgeries, 2 failed, the last surgery succeeded and she has been fortunately able to recover. "Without fair trade I would have never been able to heal my beloved daughter" said Nabil. 
"Being part of the fair trade chain, we get advice and instructions throughout the whole process and this gives us reassurance and security" said Nabil. He considers the almond tree a commercial tree that provides unlimited job opportunities for thousands of people, from seedlings purchase to almonds cracking. "The best thing about this is the independency where I don't have to work for others; I work for my land, my family and community and I am finally a decision maker" said Nabil.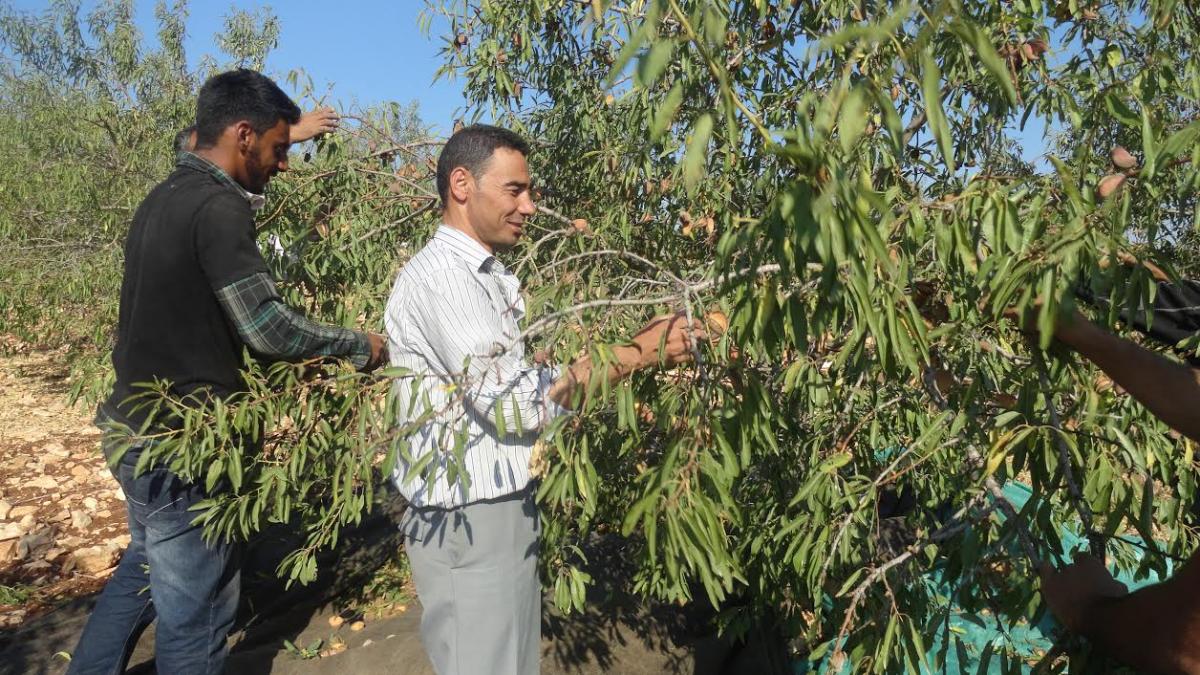 A picture of Nabil while plucking almonds in his field